Paya Beach Spa & Dive Resort is a 4-Star beachfront resort centrally located at the central western shores of Tioman Island, Malaysia. Stay with us to experience the white sand beach that spans across our beachfront Tioman Resort. Enjoy the breathtaking views, turquoise water and spectacular house coral reefs with your loved ones.
Our beach front rooms are ideally located just a few steps away from the beach. We are pleased to offer good food, clean rooms and friendly services at affordable rates. We have an array of Tioman Island packages ranging from all-inclusive packages to honeymoon getaways to spa treatments and dive packages. To further enhance your stay with us, we offer a wide range of facilities such as a licensed spa, swimming pools, beach bar, grill, multipurpose room, a PADI Dive Centre and an activity desk where guided eco-tours & activities are organized.
With more than 3 decades of resort experiences, we welcome you to a great and warm stay here, at Paya Beach Spa & Dive Resort.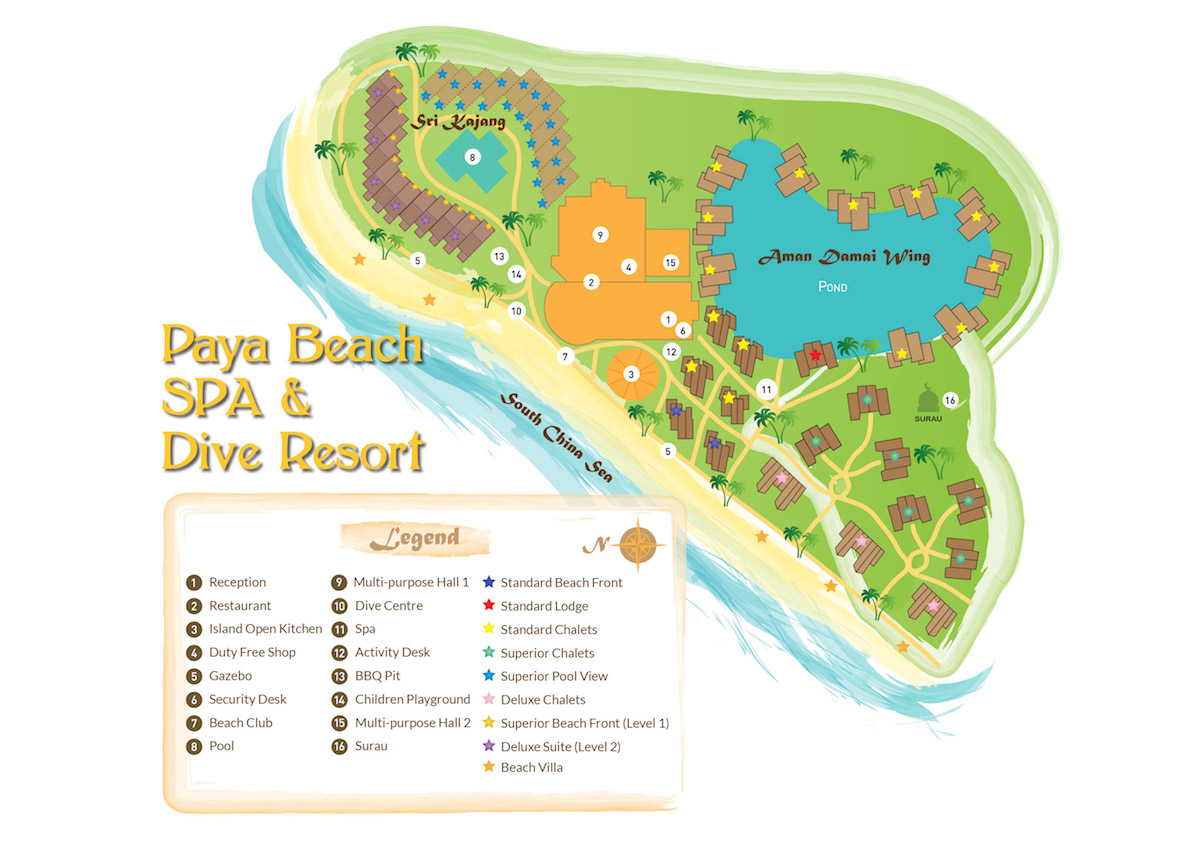 By Ferries from Mersing or Tanjong Gemok Jetty to Tioman Island
Ferries from Mersing depart from 8:00am to 4:30pm. Traveling time ranges from 1 hour and 15 minutes (speedboats/ fast ferries) to 2 hours (ferries). All boats stop at our Paya Village jetty, which is a 5-minute walk from our resort.
Ferries from Tanjong Gemok depart at regular intervals from 8:00am to 4:00pm
Travel seamlessly with our meet-and-greet officers, at Mersing & Tanjong Gemok Jetty respectively, who provide comprehensive ground assistance at the land-sea mode of your travel itinerary.
By Coach from Singapore to Mersing or Tanjong Gemok Jetty
Our Singapore sales office operates the daily coach services to Mersing and Tanjong Gemok. For further information and advance booking,
please contact:
Alternatively, you may receive INSTANT confirmation by booking at
https://booking.discoverytours.com.sg/ticketindex.html
By Coach from Kuala Lumpur to Mersing or Tanjong Gemok Jetty
We provide two way coach transportation services from Kuala Lumpur to Mersing or Tanjong Gemok jetty. There are two ways to make your booking.
1. On our website. After selecting your preferred room type at our booking engine, you can purchase the two way coach tickets at the next "add-on" page.
2. Via email or telephone. For booking assistance, you may email sales@payabeach.com or call us at 1800 818 848 (local toll free) / +65 6733 4333 (overseas) or Whatsapp/Wechat us at +60 186608081.
*Please note that the coach & ferry services are operated by external operators.